Curriculum Resources
Comprehensive lesson plans and interactive tools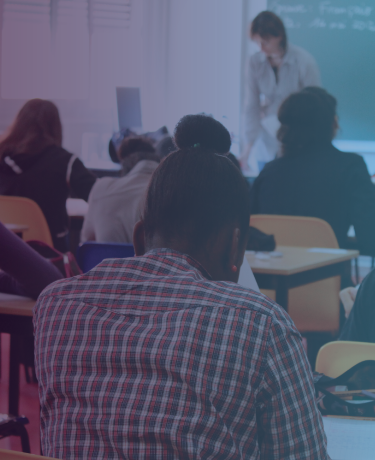 Make college and career exploration fun
Middle school educators have a comprehensive curriculum for college and career readiness. High school educators can access videos and interactive tools to supplement instruction.

Standards-aligned lessons
With over 30 lesson plans, the College and Career Readiness Curriculum enables you to deliver high-quality, differentiated instruction in semester- or year-long courses, advisory periods, or drop-in sessions with counselors.

Comprehensive content
Make sure your students understand endorsements, postsecondary options, career clusters, college and career readiness, finances, time management, networking, and job searches – and show them how to apply these topics to their lives.

Interactive resources
Our curriculum resources include a career exploration game (MiddleGalaxy), an interactive endorsements and course planning website (MapMyGrad), and a portfolio of short, student-centered videos (Roadtrip Texas).

Professional learning support
Looking for content knowledge on college and career readiness topics? We've got you covered. Don't miss the content on Career Pathways in the Texas OnCourse Academy, with modules on endorsements, graduation plans, and more.

"I use the curriculum almost everyday –the lessons that Texas OnCourse set up made my planning easier."
Melissa Veach
Middle School Teacher

"[Texas OnCourse's] resources and curriculum align with the TEKS. I have enjoyed it and the students have liked the activities."
Bonnie
Middle School Teacher
Previous
Next