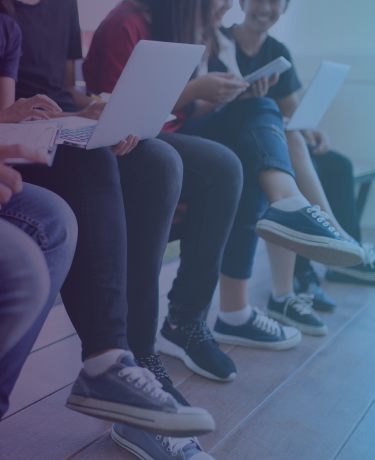 Getting ready to graduate? Congratulations! Graduating from high school is a major accomplishment worth celebrating. But as your high school career comes to an end, make sure you're on track to meet all graduation requirements. Since the 2021–22 school year, those requirements have included submitting a financial aid application.
Why? Because Texas wants more students to get money to help pay for college or training after high school. And to get financial aid, you have to apply for it. Every year, billions of financial aid dollars go unclaimed by students, simply because they aren't applying for aid.

If you're thinking, "I don't need financial aid because college or training after high school isn't for me," think again. By the year 2030, over 60% of jobs in Texas will require some sort of training or credential beyond high school. So getting education after high school will help you compete in the Texas workforce. There are many pathways you can take to get that education and training. Financial aid can help with all of them. Be sure to visit College Forward's College and Career Support to find a college and career pathway that fits your goals, interests, and abilities.
Trying to grasp why financial aid matters and how to meet Texas' new graduation requirement? Keep reading to learn:
About Texas' new graduation requirement
What financial aid is
How to complete your financial aid application
Where to get more support
How to follow up on your financial aid application
Note: Texas OnCourse wants to be a resource for all Texas students and their families, no matter where they're coming from or where they're going. When available, we will provide links to documents and resources in both English and Spanish. When translations are not available, or to view links in other languages, consider using a Google Chrome browser and use the translate function. 
Get to know Texas' new graduation requirement

Since the 2021–22 school year, all students have needed to take one of the following actions to graduate:

Complete and submit a Free Application for Federal Student Aid (FAFSA)
Complete and submit a Texas Application for State Financial Aid (TASFA)
Submit a signed opt-out form to their school counselor

 
Who should opt out?

In certain cases, students can opt out of the graduation requirement by submitting a signed opt-out form to a school counselor. This form is also available in Spanish.

You can make this decision based on personal circumstances. Your school counselor can help answer questions, address your concerns, and provide guidance regarding this graduation requirement and which choice may be the best fit for you. Students 18 and younger may also need a parent or guardian's signature, unless a student is considered an emancipated minor or there is a special circumstance that may prevent a parent or guardian from being able to sign. If you're unable to get a parent signature, your school counselor can sign the form with you. Be sure to talk to them about any special circumstances. Remember, you can always apply for financial aid later, even if you choose to opt out of the graduation requirement.

 
Learn about financial aid


We know that financial aid might be a new concept for you. Before starting a financial aid application, consider this:


Submitting a financial aid application can open opportunities for a range of need-based and merit-based financial support for education and training after high school.

Financial aid comes in a variety of forms beyond student loans.

Many students qualify for financial aid, which can greatly reduce the overall cost for college or training after high school.


 
Why should I care about applying for financial aid?
When you submit a financial aid application, it opens the door to many types of financial aid. These different funding sources can help pay for your education after high school.

What financial aid is out there?
There are several types of financial aid:

It may feel like applying for financial aid requires you to learn a new language! Familiarize yourself with commonly used financial aid terms using College Board's BigFuture Financial Aid Glossary. 

How will financial aid help me pay for college?
If you've looked into the cost of college or training after high school, then you already know that at most schools, it isn't cheap. But when you research college costs, you'll often find a school's sticker price or cost of attendance (COA). The COA is an estimate of what the average student pays to attend the school.

But it's likely that you won't have to pay the full sticker price. To discover what you will pay to attend a specific program after high school, you have to find the net price. The net price is the school's COA (sticker price) minus any grants or scholarships you receive. Remember, that's free money you don't have to pay back. You can cover the net price using other forms of financial aid such as work-study funds or loans. Or you can pay it through personal savings, job earnings, or family support.

See how financial aid can help you lower your education costs each year:

The table is also available in Spanish.

Conversation starter: Most students need to report parent information on their financial aid application. Share this financial aid table with your family, so they understand how their help can benefit you! 

What is the truth about financial aid applications?

You may be confused about applying for financial aid, or maybe you think that it's not worth all of the extra work because you think you won't qualify to receive aid. Some people may even be nervous about completing an application that requires sensitive personal information. Check out this helpful resource on Debunking Financial Aid Myths in English or in Spanish to learn the truth about these applications so that you can make the best decision for yourself.


 
Get ready to complete your financial aid application

Now that you know the benefits of applying for financial aid, it's time to answer the following questions:

Do I submit the FAFSA or the TASFA?
What is my timeline for submitting my financial aid application?
What information do I need to get started on my application?
How do I complete my application?

 
Which application should I complete?

You can complete one of the following applications to apply for financial aid:

The Free Application for Federal Student Aid (FAFSA)

Application for federal, state, and institutional aid
Available to US citizens, permanent residents, and certain eligible noncitizens

The Texas Application for State Financial Aid (TASFA)

Application for state and institutional aid
Available to Texas residents who are ineligible for the FAFSA. This resource is also available in Spanish. 

Note: Your parent's citizenship status does not impact your eligibility for financial aid.

Important TASFA Update: The Texas Higher Education Coordinating Board, in collaboration with the TASFA Advisory Committee, have been working hard to make completing a TASFA form smoother for both students and colleges. Students eligible to complete the TASFA soon will be able to complete and submit the application online. Until then, continue to use the paper TASFA and mail the paper form directly to colleges and universities.

 

When can I apply for financial aid?

Every year, both the FAFSA and TASFA open October 1. This is the earliest date you can apply to receive aid during the upcoming school year. Financial aid is offered on a first-come, first-served basis, so try to file your application as soon as possible after October 1. This will improve your chances of qualifying for the most grant, scholarship, and work-study aid.

There are three major financial aid deadlines to mark in your calendar:

State priority deadline – In Texas, the state priority deadline is January 15 of the current academic year. Try to apply by this date to qualify for the most aid possible.
College deadline – Each college has its own priority deadline. Most four-year public colleges in Texas use the state priority deadline of January 15. However, you should always double check with the college. Apply by the college's deadline to qualify for the most grants and scholarships (free money).
Federal deadline – The federal filing deadline and absolute last day to submit your financial aid application is June 30 of the school year you're requesting aid. For example, the federal deadline for the 2022–23 application is June 30, 2023. However, try to submit your application by the earliest priority deadline set by the state or college. You are not guaranteed any financial aid if you wait until the filing deadline to apply. The longer you wait to submit your application, the less likely it is that financial aid will be available.

Pro tip: For financial aid, each school year starts on July 1 and ends on June 30 of the following year. Make sure your application is for the school year in which you need financial aid, not the current academic year.

Resource spotlight: Print or bookmark this Financial Aid Timeline in English or in Spanish to keep track of important deadlines.

Need regular reminders to help you stay on track? You can receive free virtual advising support via text message! Texas Higher Education Coordinating Board developed a chatbot named ADVi– short for advisor – to provide you with on-demand support to help ensure that you receive the information you need to access higher education. When you sign up to receive messages from ADVi, you get:

Weekly reminders about upcoming deadlines and nudges to complete key college access milestones
The ability to ask questions about college 24/7 via text message,
Backup support from our virtual advisors if a student has needs or questions beyond what ADVi can provide,
Information and tips to help with their college applications, planning, and financial aid, and
Resources to help navigate the transition to college.

You may opt-in to receive ADVi messages when creating your profile on ApplyTexas. On the last page, make sure you select Yes when asked "Do you consent and agree that ApplyTexas and its partners (the Texas Higher Education Coordinating Board and AdmitHub) may communicate with you by email or text message (including SMS and MMS messages)?" Already created your ApplyTexas profile? It's not too late to make updates and opt-in to ADVi. Just log in to ApplyTexas and update your answer to this question to start receiving texts from ADVi.

Currently, ADVi only sends outgoing text messages in English. However, you can ask ADVi to respond to your questions in a different language by using #language. If you are looking to chat in Spanish, you can also ask for a human by using #followup and ADVi will connect you with a Spanish-speaking advisor.


Is there anything I need to do before starting my application?

Completing a financial aid application is quick and easy if you have the right information and know who to ask for help. Just follow these steps:

Figure out if you're a dependent or independent student. Dependent students have to report parental income on their application. Use the Texas OnCourse Financial Aid Dependency Guide in English or in Spanish if you're not sure.
Figure out which income to report: Independent students do not need to report parental income on their application, but dependent students do. If you are a dependent student, you need to figure out which parent's income to report on your application. Use Texas OnCourse's Which Parent Do I Report? Chart in English or in Spanish if you're not sure.
FAFSA students only: create a Federal Student Aid (FSA) ID. Your FSA ID will serve as your username and password for the application, as well as your legal signature. Try to complete this step before starting your application. Be sure to use a personal email address to create your ID. You won't have access to your high school email address after high school, and you will use the same FSA ID every year that you apply for financial aid. Watch Federal Student Aid's FSA ID tutorial to learn how to create an FSA ID or watch this Guide to Creating Your FSA ID in Spanish. 
Gather the materials you'll need. The FAFSA and TASFA forms ask for your personal and tax information. They also ask dependent students to provide parental information. You'll need to gather tax return copies, bank statements, W2s, and more. Use the Financial Aid Application Checklist in English or in Spanish to ensure that you have everything you need to complete your form.
Seek help when needed. Some students don't live with a biological parent or have complicated situations that may make completing a FAFSA seem impossible. Visit your school counselor for help getting through this process. Resources and answers are available – you just have to ask!

 

How do I apply?

To complete the FAFSA, visit fafsa.ed.gov or download the myStudentAid app from the Apple or Google Play store.
To complete the TASFA, visit College for All Texans to download the PDF application.* While you can fill out the application on your computer, you'll need to print and mail it to each college.

Check with your college to see if they want you to complete a paper FAFSA instead.
Some schools may have their own electronic TASFA you can submit online.

If you do the right work ahead of time, the application should take less than an hour to complete!

 
Get support on your application

Ask your school counselor or college and career advisor about support to complete your application. Your high school might host financial aid events to help students and their families. You can also schedule a meeting with your school counselor for one-on-one support. More support may be available in your community too.

 
Keep this in mind: the better your school counselor or adviser understands your needs, the better they can support you on your application.

FAFSA Students: Complete the FAFSA on the web worksheet before asking for help on your application. This handout lets you preview questions you may see on the FAFSA and provides space to jot down notes or questions. The worksheet is also available in Spanish.
TASFA Students: Print a copy of your TASFA and highlight any areas that cause confusion. Be sure to review the notes on pages 6–8. They answer a lot of the questions that students and families often struggle with.

You can also reference this annotated TASFA in English or in Spanish, which identifies a few areas of the application that students may have trouble with.

If you want to complete your application at home, check out the following resources:

 
Follow up on your financial aid application

After you submit the FAFSA or TASFA, you'll need to take a few more steps to ensure that you have the financial aid you need for college or training after high school. Review this list of action items below. 

 
Big takeaways:

Stay on top of communication from the college by checking your email and college portals frequently. And make sure to use a personal email address when working on any financial aid or college applications. The email address assigned by your high school won't be available after you graduate and may block emails from organizations outside of your district! 
If you have a specific question about your financial aid application or aid offer, it's always best to contact the college directly. Financial aid advisors are ready and willing to help you through the process.

Visit Federal Student Aid for more information on next steps after submitting your financial aid application.

 
______________________________________________________________________________________________________________________________________
Resource Library
Now that you know more about Texas' financial aid graduation requirement and how to apply for financial aid, explore the following resources to get the support you need.
Learn about financial aid
Get ready to complete your financial aid application
Complete your financial aid application
Know what to do after you submit your financial aid application