October Office Hours Recap -- All About FAFSA
By: Texas OnCourse Communications Coordinator Rose Frezza
2 min
The saying goes, "When in doubt, FAFSA." Now that the priority submission deadline for the FAFSA has moved up to January 15, 2019, we want to make sure you and your students have all of the information you need!
In case you missed October's digital office hours on FAFSA, we'd like to share the top three questions and answers that came up.
Every month, we offer two digital office hour sessions in the Texas OnCourse Academy. October's office hours sessions were moderated by Texas OnCourse Leader Fellows Stephanie Perez-Gill, Mia Bradford, Doni Watson, and Michelle Snyder.
Q: Whose information goes on the FAFSA, in terms of a parent or guardian? What if my student lives in a non-traditional household?
A: Mia shared: "A helpful acronym to remember is SIMBA: Step if Married, Biological and Adoptive parents. If a student is not adopted, are they in a legal guardianship? If not, the financial aid office of the individual school should be consulted, because the student may need to file as an independent. If third party letters are needed to verify that a student is not in contact with their parent, non-family members such as counselors, teachers, social workers, and family friends can count as third parties."
Q: What are some best practices when it comes to encouraging completion of the FAFSA at school?  
A: Hosting a FAFSA night after school can encourage families to come out with their tax documents and knock the paperwork out. Educators should also book a space like a computer lab, prepare volunteers, provide snacks, and take individual appointments if needed. Consider partnering with a local university so that financial aid officers can come out and answer any questions parents might have. Sending out grade-wide text reminders for these events helps, too! And don't forget to check out this Senior Parent Night Guide for more ideas.
Q: What's the best way for me to explain to students just how important filling out the FAFSA is?
A: Check out these words of wisdom from Michelle, Leader Fellow and college counselor in Austin ISD: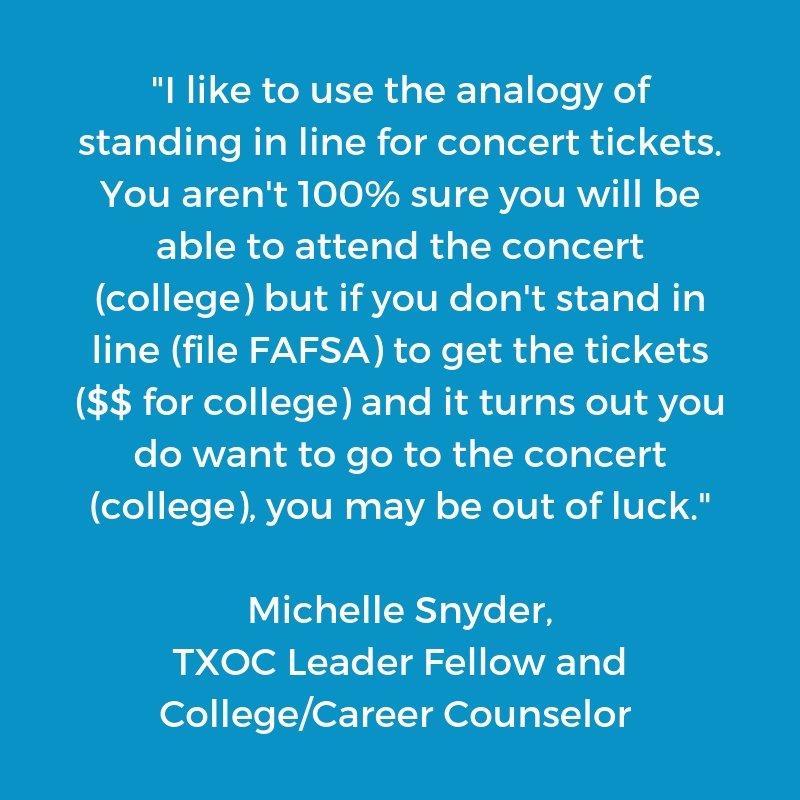 For more info on financial aid and the FAFSA and TASFA applications, be sure to register for our webinar on FAFSA and TASFA, taking place on Tuesday, November 6 at 10AM. And don't forget to join our next Digital Office Hours within the Texas OnCourse Academy NCAA module on Wednesday, November 7, 2018, pictured below: