When and Why to Take the TSIA
By: Texas OnCourse
5 min read
The Texas Success Initiative Assessments (TSIA) are part of the Texas Success Initiative (TSI) program designed to help a student's college or university determine if the student is ready for college-level coursework in reading, writing, and mathematics.
There are two primary reasons a student will take the TSIA:
To qualify for dual credit enrollment

For college course placement
For dual credit enrollment, high school students need to ensure they are ready to keep up with college-level coursework. The TSIA is one of several options for students to prove they are ready, and will be necessary if students haven't met STAAR, SAT, or ACT test standards.  
In order to take dual credit, students must have achieved one of the following:
Minimum passing standards for

Texas Success Initiative Assessment

Score of 4000 on the English II

State of Texas Assessments of Academic Readiness end-of-course (STAAR EOC) assessment or a score of 4000 on the Algebra I STAAR EOC in conjunction with a passing grade in the Algebra II course relevant to the courses to be attempted.

Minimum score of 480 on the Evidenced-Based Reading and Writing (EBRW) or a minimum score of 530 on the mathematics on the

SAT® administered on or after March 5, 2016.

ACT

® composite score of 23 with a minimum of 19 on the English section or 19 on the mathematics section.
For college course placement, high school seniors and graduates may need to take the TSIA to prove they are ready for college coursework.  The following qualifications may exempt students from the TSIA:
Meet the minimum college readiness standard on SAT

®, ACT®, or a statewide high school test

Successfully complete college-level English and math courses*

Enroll in a Level-One certificate program (fewer than 43 semester credit hours)

Are not seeking a degree

Have been or are currently in the military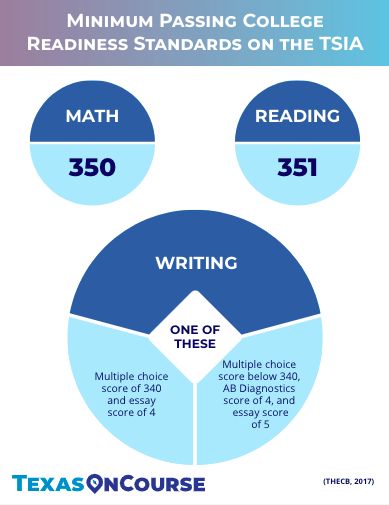 High school graduates may feel some sense of anxiety about the TSIA. With test scores, a diploma, and an acceptance letter in hand, it can feel like one more hurdle of many to overcome. However, counselors and advisers can reassure students that even if they do not pass the TSIA, they will still be able to attend college. They will just start in courses to better prepare them for the rest of their studies.
Once students understand why they have to take the TSIA, it's time to get to signing up and preparing! For information on guiding students through this process, visit the Texas OnCourse Academy and take our short, self-paced TSIA training module to become an expert!