Sharing Our Gratitude
By: Texas OnCourse
2 min
With Thanksgiving around the corner, we're mindful of all of the things we're grateful for. In particular, we are thankful for you, Texas educators. As of last week, more than 10,000 of you have registered for the TexasOnCourse Academy, our free online resource offering premium content for educators. Thanks to you, countless students across the state are equipped to plan for success after high school.
Let's keep the momentum going! Will you share the Texas OnCourse Academy with your colleagues? With the Academy, you and your colleagues are:
Prepared to advise any student on any postsecondary decision.
The Texas OnCourse Academy provides comprehensive professional learning on college and career advising for all educators – counselors, advisers, teachers, coaches, and anyone else who supports students in their plans after high school.
Your school's go-to source for college and career planning.
Our competency-based modules include topics including FAFSA, NCAA Eligibility, Advising Highly Mobile Students, and Transition Services for Students with Disabilities. Become the expert you always wanted to be!
Eligible for professional development credit -- and financial rewards.
Counselors and advisers can earn up to 30 continuing professional education credits by completing badges in the Texas OnCourse Academy. And for a limited time, educators can earn up to $450 for earning badges as well!
Equipped with resources to support continuous learning.
We offer a Monthly Webinar Series to delve deeper into seasonal topics like college applications and financial aid. And in case you have questions or would like to collaborate with fellow educators, you can log in for Digital Office Hours as well!
We are united with you in the sentiment that serving Texas students is a privilege. Thank you for supporting Texas OnCourse, and, in turn, the students of Texas.
We'll leave with you a quote from Jenifer Price, an early adopter of the Texas OnCourse Academy, on what it means to her: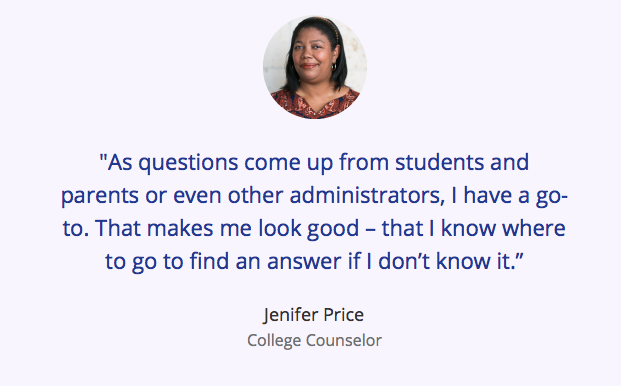 Happy Thanksgiving!