SAT Subject Tests: What You Need to Know
By: Texas OnCourse
5 min read
The below is taken from the SAT module in the Texas OnCourse Academy. Educators can log on or register for valuable training in entrance and placement exams.
What are SAT Subject Tests?
The SAT Subject Tests (also known as SAT II tests) are one-hour tests that can be taken in a specific subject area including English, history, mathematics, languages, and the sciences. The subject tests allow students to showcase subject-specific strengths and interests. Colleges may use the results for admission, course placement, and course advisement.
Students might need to take a subject test if their college requires it as part of their admissions process. Otherwise, subject tests are optional, and students may choose which subjects they take. Depending on the college, a student's results in an SAT Subject Test may place the student in an intermediate class or even satisfy a basic requirement. 
Why Take the SAT Subject Tests?
SAT Subject Tests can do more than help students show off their strengths.
Colleges may require Subject Tests:
Some colleges require or recommend that students take SAT Subject Tests, especially if they are applying to take specific courses or programs.
Stand out in college admissions:
Colleges that do not require Subject Tests may accept them and use them in the admission process to get a more complete picture of applicants. Students can demonstrate their strengths by sending Subject Test scores to colleges.
Students show colleges their interests:

 


Students can send a strong message to colleges about their interest in specific majors or programs and how prepared they are for college work.
Fulfill requirements or get credit:
Some colleges use Subject Tests to place students into the appropriate courses. Depending on their test scores, students might be able to fulfill basic requirements or get credit for introductory-level courses.
How do I know whether an SAT Subject Test is required of me?
An easy way to understand whether your chosen college considers SAT Subject Tests is to check whether it appears on the College Board's list of colleges that use the test.
For a better understanding of how a given college uses the test, the College Board's college exploration website, Big Future, offers this information on their profiles of each college. A student can navigate to the "Applying" tab on any college profile, illustrated here -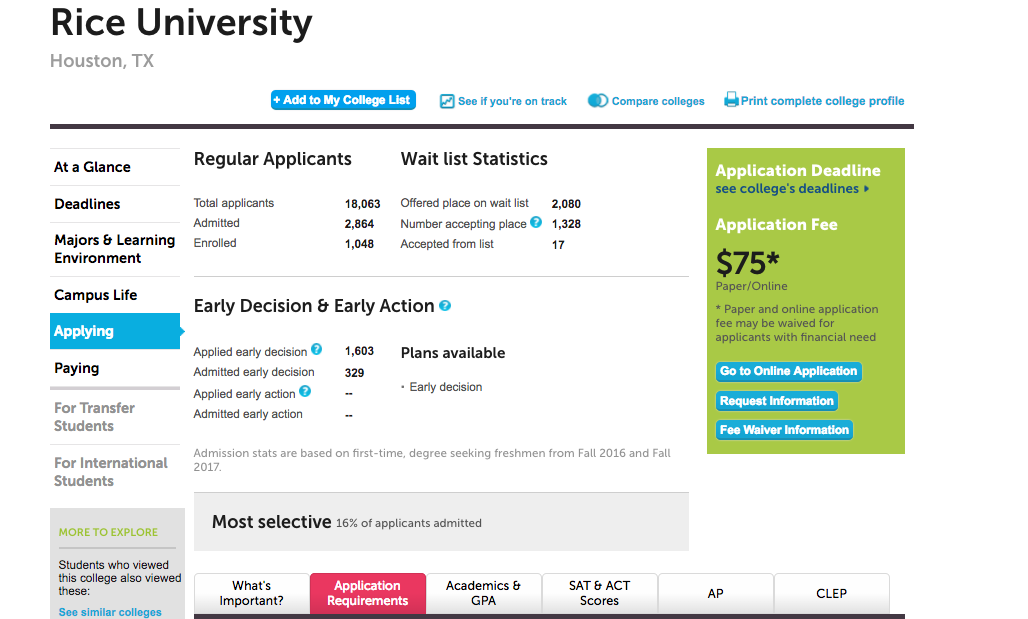 - and click the "Application Requirements" tab (highlighted pink above) to reveal whether the SAT Subject Tests are required, recommended, or considered at all.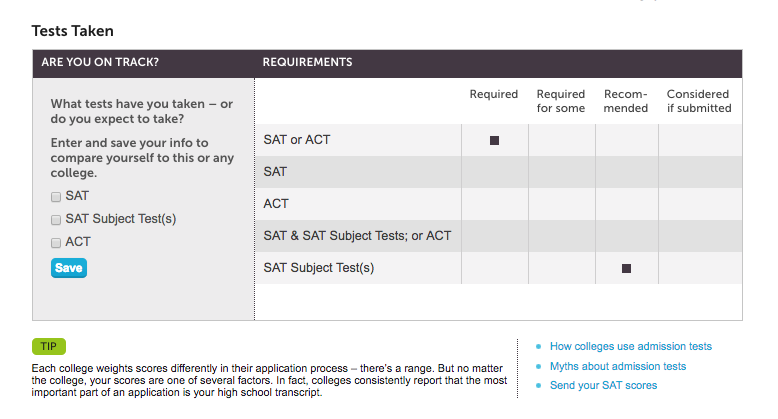 The BigFuture webpage is an excellent resource for students researching postsecondary options or comparing requirements for college applications.
Once students decide to take a Subject Test...
The College Board website provides helpful information on how to prepare and choosing what tests to take! Students should know subject Tests don't have to be daunting!