All About NCAA/NAIA Eligibility
By: Texas OnCourse
3 min
[UPDATED FALL 2019] When a student has the potential to play as a collegiate athlete, a whole new set of rules can complicate the college application process. First of all, what's the difference between NCAA/NAIA and how do I determine the best fit for a student? The visual aid below from our Pinterest page can help: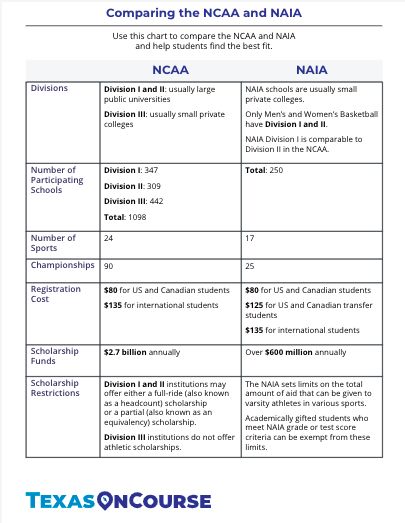 We hosted digital office hours sessions to offer more info on NCAA/NAIA, which were moderated by Texas OnCourse Leader Fellows Mollie Huber, Holly Moore, and Chansi Shope. The complete NCAA/NAIA module is available within the Texas OnCourse Academy, under Postsecondary Pathways > Admission and Application Process > NCAA and NAIA Eligibility Centers: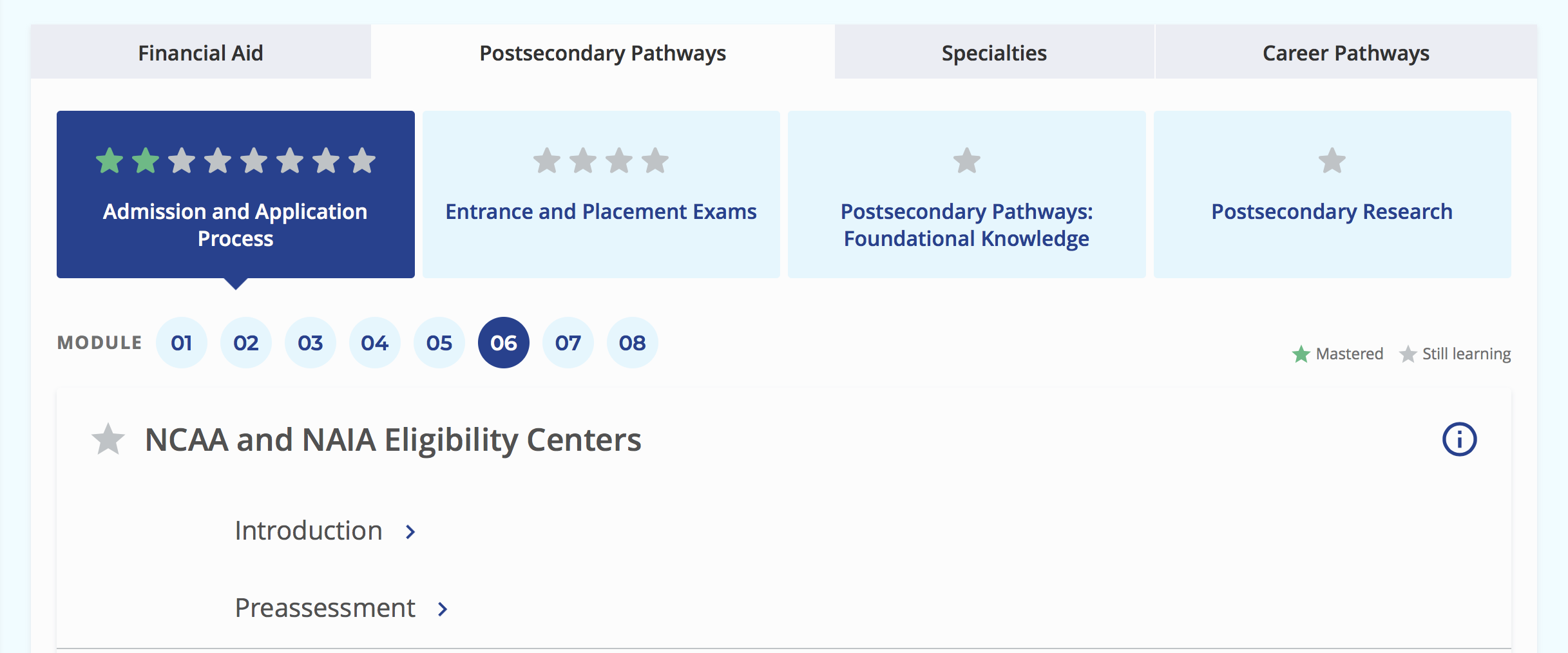 Here is what our leader fellows had to say:
Q: What are some common misconceptions that students have about the NCAA process?
A: "[Some] students think their athletic ability will overcome all academic issues. Another common misconception students have is that coaches and recruiters will take care of the application process for them. Students still have to take responsibility for getting all the necessary paperwork to the college – that means requesting transcripts on time!" – Mollie Huber
Q: What's the best piece of advice you can offer about having a successful NCAA experience?
A: "Having conversations with all parties included EARLY on. Also, having one counselor on campus as a go-to for NCAA/NAIA questions and resources, but having all counselors complete the module to have an overall idea about the process and resources available. I love the side-by-side comparison of Division I and Division II requirements." – Chansi Shope
Q: Sometimes a breakdown in communication between coaches and advisers can complicate things for students who are college-athletics bound. What is a best practice you have come across that has helped improve collaboration with coaches?
A: "I interviewed past parents of current college athletes as well as our head coach and some assistant coaches to see what system would work best for our campus. I created a flow chart for college bound athletes. The chart began with a parent-student meeting with all students and parents interested in college athletics." – Chansi Shope
Q: What's the best way to get the word out to students about registering for NCAA or NAIA?
A: "One approach that I have taken is to hold a spring meeting with interested juniors and their parents and go over the recruiting and eligibility process. Afterwards we open the computer lab so students can register for the eligibility center. I also send an email to varsity coaches and ask them to invite their athletes." – Holly Moore
A key takeaway is to begin these conversations with students and their families early – as early as freshman year. This will help ensure that students are conscious of putting the "student" in "student-athlete."
For more resources on NCAA/NAIA eligibility, be sure to visit our Pinterest board.