Common App: Three Things to Know
By: Texas OnCourse
3 min read
[UPDATED FALL 2019] When designing Texas OnCourse's offerings, we did a lot of research into what students, their families, and counselors/advisers wanted to know about college and career prep. One of our findings stood out:
They're anxious about the Common Application.
We get it! While the Common App makes it easier to apply to many colleges, including Ivy League and private colleges, it doesn't make the college application process simple. Fortunately, in addition to our training module on the Common App, we have compiled helpful tips for students and for the adults in their lives.
Top three tips for students
1) Understand the difference between Early Decision, Early Application, and Regular Decision.
It's always a good idea to apply as early as possible for your dream school. However, the Common Application's Early Decision option represents very high commitment and should be used cautiously. When selecting Early Decision, you may be able to get out of the agreement if the financial aid package does not cover the cost of attendance. But you miss the opportunity to shop around – Early Decision students must rescind other applications submitted through Common App. This selection can be very limiting if money is a concern.
A more comprehensive description of this important distinction is available on the Princeton Review website.
Follow the steps below to make sure your Common App is complete and submitted correctly.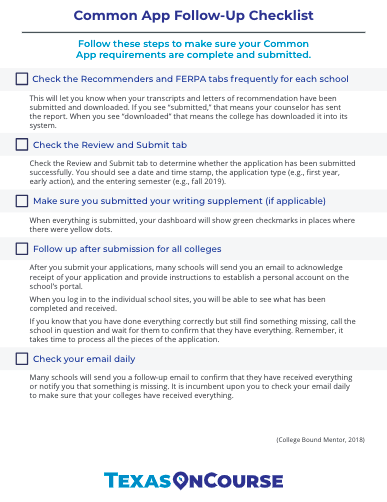 2) Don't get too bogged down in essay topics; find your strengths and apply them.
Adding up one required and six optional essay topics, plus individual schools' supplemental essays, TIME magazine suggests a student could, in theory, submit up to 22 essays via Common App. Don't be daunted! Think about what makes you a talented and unique candidate and share anecdotes that express each of those qualities. Then, use the essay prompts as guides to repackage those stories to meet each college's expectations.
More information on how to best market yourself in essays is available in the TIME article we referenced above.
3) Have your essay and resume text on hand to copy and paste.
A frustration many students run into with the Common App is the session timing out when writing an essay or filling out the list of extracurricular activities and accomplishments. That's why it's best to write your essays and resume in a word processor and have the text on hand to copy and paste.
This and other tips to make sure your essays are well formatted are available on the Common App website.
Top three tips for educators and families
1) To help your students, create a practice account.
The folks at Common App know that parents, guardians, counselors, and teachers need to see the Common Application in order to help their students. Rather than signing up for a real account, families and educators can sign up for their own practice account. Sign up as an education professional or a parent/guardian to check out essay topics, required info, and more to help students prepare before they even sign up.
2) Understand FERPA.
Each applicant is required to make a decision on the FERPA (Family Educational Rights and Privacy Act) Authorization Release form. This form gives students the option to waive their right to review confidential letters of recommendation submitted on their behalf. Make sure you understand where the FERPA release form is – perhaps by trying it out on your practice account – so you can help your student find it and make an informed decision regarding privacy.
3) Understand DACA (citizenship questions for undocumented students).
Undocumented students or students who currently hold DACA (Deferred Action for Childhood Arrivals) status will be asked to disclose their citizenship status in the Profile section and should select the following options:
"Other (Non-US)" for citizenship status

The student's country of citizenship

"I do not hold a current valid U.S. non-immigrant" from the "Currently held United States visa" field
While these tips aren't comprehensive, we hope that the resources provided, as well as our Common App training module, start you on the path to success!