Announcing Release of New Middle School College & Career Resources
By: Texas OnCourse
5 min read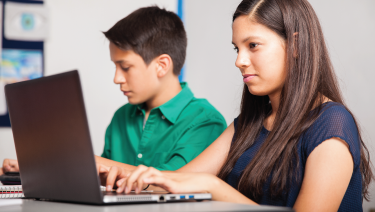 Texas OnCourse is excited to announce the release of key resources to prepare middle school students for college and career decisions: our Curriculum Guide, and career exploration game MiddleGalaxy.
We know that, for middle school teachers, fulfilling TEKS requirements for college and career readiness is important. But without guidance, it can be a difficult addition to an already packed curriculum.
The TXOC Curriculum Guide includes plug-and-play lesson plans and activities aligned to Texas standards for College and Career Readiness and Investigating Careers. Whether your school offers courses in college and career preparedness, or you are fitting these lessons into other academic classes, our lessons are simple and easy to use.
Click to learn more and download guide
Middle Galaxy makes career and college exploration so accessible and fun that students don't realize they're engaging in a mandatory part of their middle school experience. A collaboration between The University of Texas at Austin, Massachusetts Institute of Technology, and the Institute for Applied Neuroscience, Middle Galaxy also guides students to select a high school "endorsement."
Click to learn more and to play game
The students who tested MiddleGalaxy were delighted to play and to learn.  "I never knew what an anesthesiologist was, but while playing the game I learned that was an important job. I might want to be one some day," said one student.
Have fun and become the go-to source for the most current and accurate college and career planning materials for your entire school community with Texas OnCourse.