Frequently Asked Questions
Texas OnCourse Academy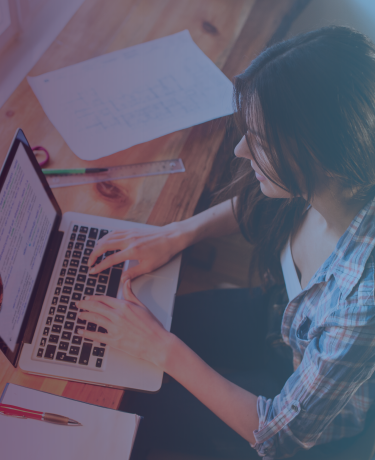 Where are my badges?
We updated 10 modules in the Academy with brand-new information that's essential for you to be able to advise your students appropriately. Because of this, we've created version 2 of the badges associated with these modules. You will need to remaster the modules to earn these new badges. This is why these badges are grayed out on your dashboard. You still have the version 1 badges if you earned them, though! Click on "Print my badges and certificates" and you'll see them! Check out the scenario and screenshots below for more info.
Scenario: Whitney earned the badges for Admission and Application Process and Entrance and Placement Exams – way back in September 2017! However, these badges are displaying gray on her dashboard because she needs to remaster the four updated modules connected to these badges – those are reflected by the grey stars. If Whitney clicks on "View My Badges and Certificates…"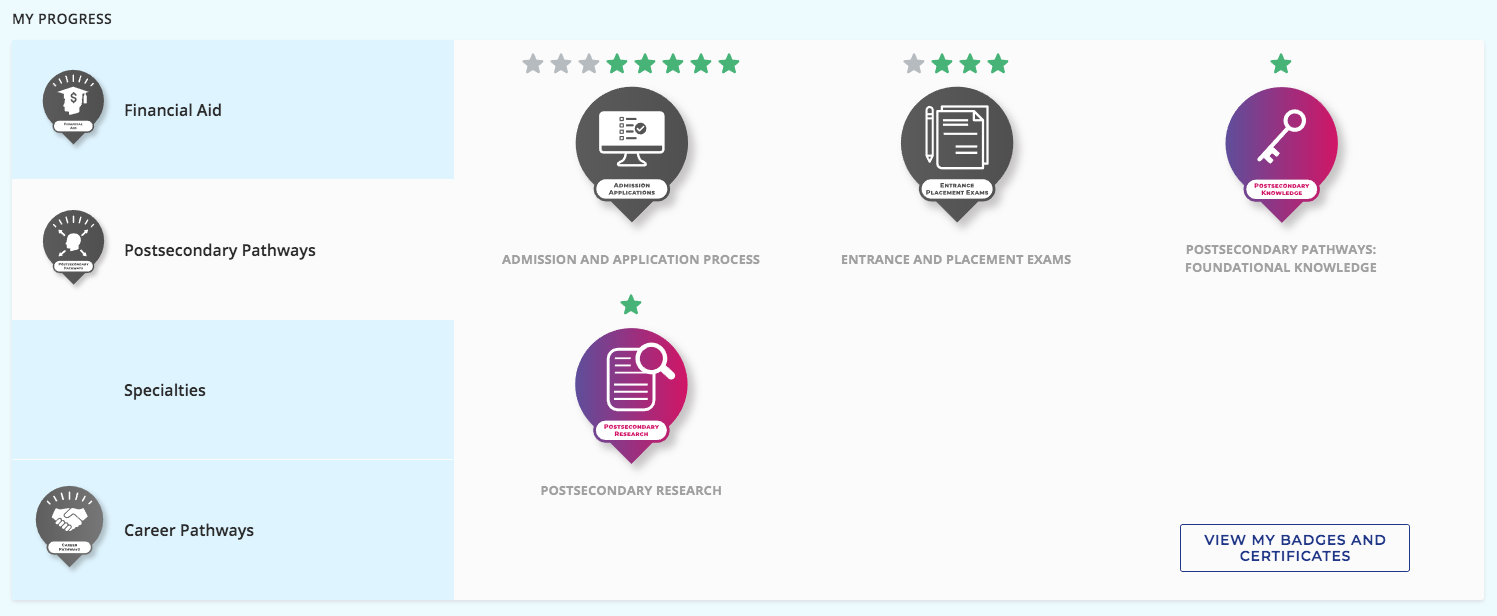 ...she'll see this page, which displays the historical versions of the badges for Admission and Application Process and Entrance and Placement Exams. You can see she's earned them because they're shaded in.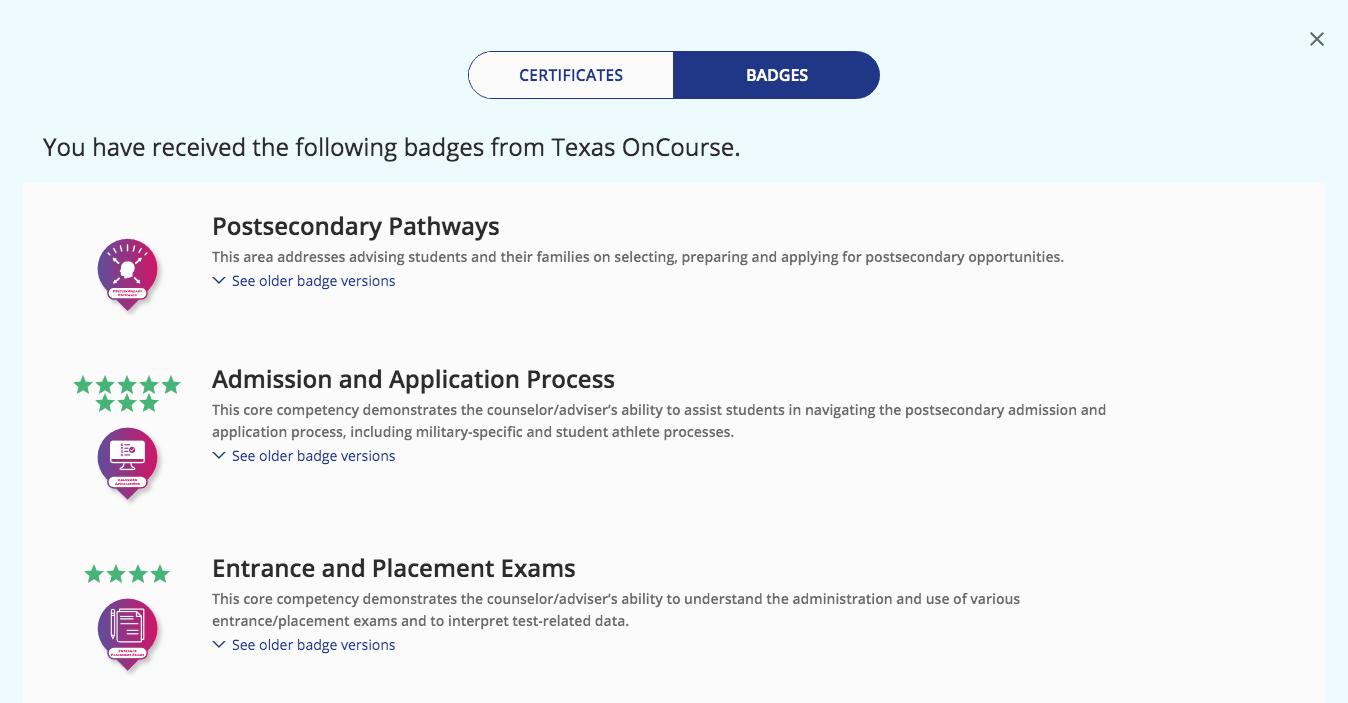 The badges we hope you re-earn if you earned version 1 are:
Financial Aid Application Process

Scholarship Application Process

College Cost

Admission and Application Process

Entrance and Placement Exams
Bonus! If you re-earn these, you'll shade in your "big" badges for Financial Aid and Postsecondary Pathways as well!
Here is a list of modules you'll need to remaster if you want to earn version 2 of these badges:
FAFSA

TASFA

ApplyTexas

Common App

SAT

ACT

Scholarship Apps

College Credits

College Finances

 TSIA
What happened to the reward program? 
The reward program ended on July 7, 2019. If you have questions about it, please click here to contact our support team.  
Why aren't all the modules available?
We're updating all Academy modules to ensure that the information we provide is accurate and up-to-date. We expect the rest of our modules to be available in early August. Please make sure you are subscribed to periodic updates from Texas OnCourse to receive email notifications once these modules are available.
Why does my Academy dashboard look different?
We've made some big changes to our platform to improve your learning experience. Now we're able to offer updated content and new versions of our badges for you to earn when important content has changed. 
Why don't I see my progress for partially completed modules?
As you may have experienced already, we significantly reorganized and updated the Academy modules to reflect the latest college and career planning information and provide a better experience for you. Any modules that you mastered prior to July 8th will still register as complete in the new Academy. However, due to significant structural changes, we're unable to transfer over progress you made on modules that you did not master. 
Can I still access resources I saved from the old system, such as Pinterest boards and pins and bookmarks in the Academy?
All of our Pinterest boards are still in place, though we've swapped out the infographics with the newest versions. Unfortunately, we couldn't retain bookmarks from the previous version of the Academy.
I am receiving an internal server error when I log in.
A small number of users are seeing this issue, and we are working to resolve it. In the meantime, here are some approaches you can take to access the modules:
Make sure all browsers are up to date

Clear your browser's cache

Try opening the dashboard in different browsers, including Chrome, Firefox, and Safari

Open the dashboard in Chrome or Firefox incognito windows

Try viewing the Academy on a different computer or device
I'm receiving an error when I try to perform a search within the modules of the Texas OnCourse Academy.
We are currently experiencing a technical issue with the search feature and hope to have it resolved soon. For assistance with your questions, please contact support@texasoncourse.org.
I have completed a module, but I have not received a badge. How do I get a badge?
In order to receive a badge, you must master all the modules it covers. In order to master each module, you must master every unit in that module. If you have not received mastery of a module, check to make sure you have a green star beside each unit. If you are missing a green star, reread that unit and pass the Test Your Mastery questions to master the unit.
You can find out more about the Texas OnCourse Syllabus by clicking here.
I am not receiving my registration confirmation email or password reset email.
Here are some quick ways to ensure you receive your password reset email:
Add texasoncourse@austin.utexas.edu to your contacts

Check with your school and district IT office to ensure that they allow our email domains (www.texasoncourse.org, www.utexas.edu, and http://us-west-2.amazonses.com/) to come to your inbox

Make sure you're spelling your email address correctly

Check your spam or junk folder in case the reset was delivered there
I can't find my district or school when registering.
You must find your district first. To find your district, begin typing the first three letters and scroll down the list to select your district name. Once you have selected your district, all possible schools will display in a drop-down menu. Make sure you are using the full, correct name of your school or district.
Is there an opportunity to earn Continuing Professional Education hours?
Texas OnCourse provides CPE credits to counselors and advisers for completing the modules in the Texas OnCourse Academy.
I am an educator who would like to track the progress of my students in MiddleGalaxy. How do I create a class code?
You can find instructions for creating class codes by clicking here.
I still have questions.